Multi-Party Test Kit
Regular price

Sale price

$5.99
The Test Your Poison Multi-Party Test Kit is a quick identification test that will show the presence of a number of party drugs. With this test you are able to find out which drug is present in your sample. This will help either identify or ensure the substance is in fact what you have bought.
This identification test will show the presence of Amphetamines, Barbiturates, Cocaine, Ephedrine, Heroin, Mescaline, Methadone, Methamphetamines, Methaqualone, Methylphenidate (Ritalin), Oxycodone and MDMA.
Test kits Includes:
Individual vial with reagent liquid 
Instructions with colour chart
Spatula
The ten (10) test pack have the individualized tests packed together but they can still be separated and shared with friends.
Share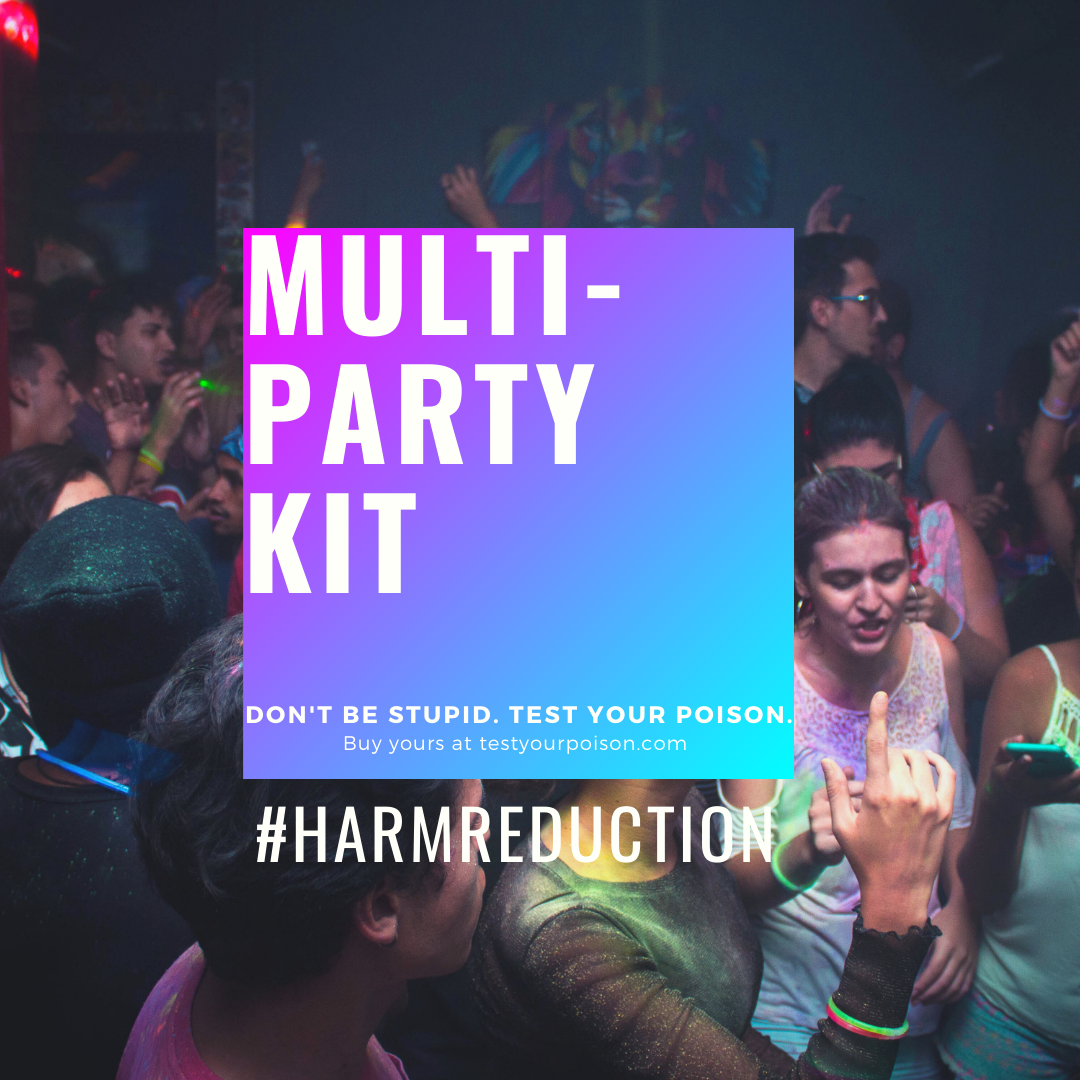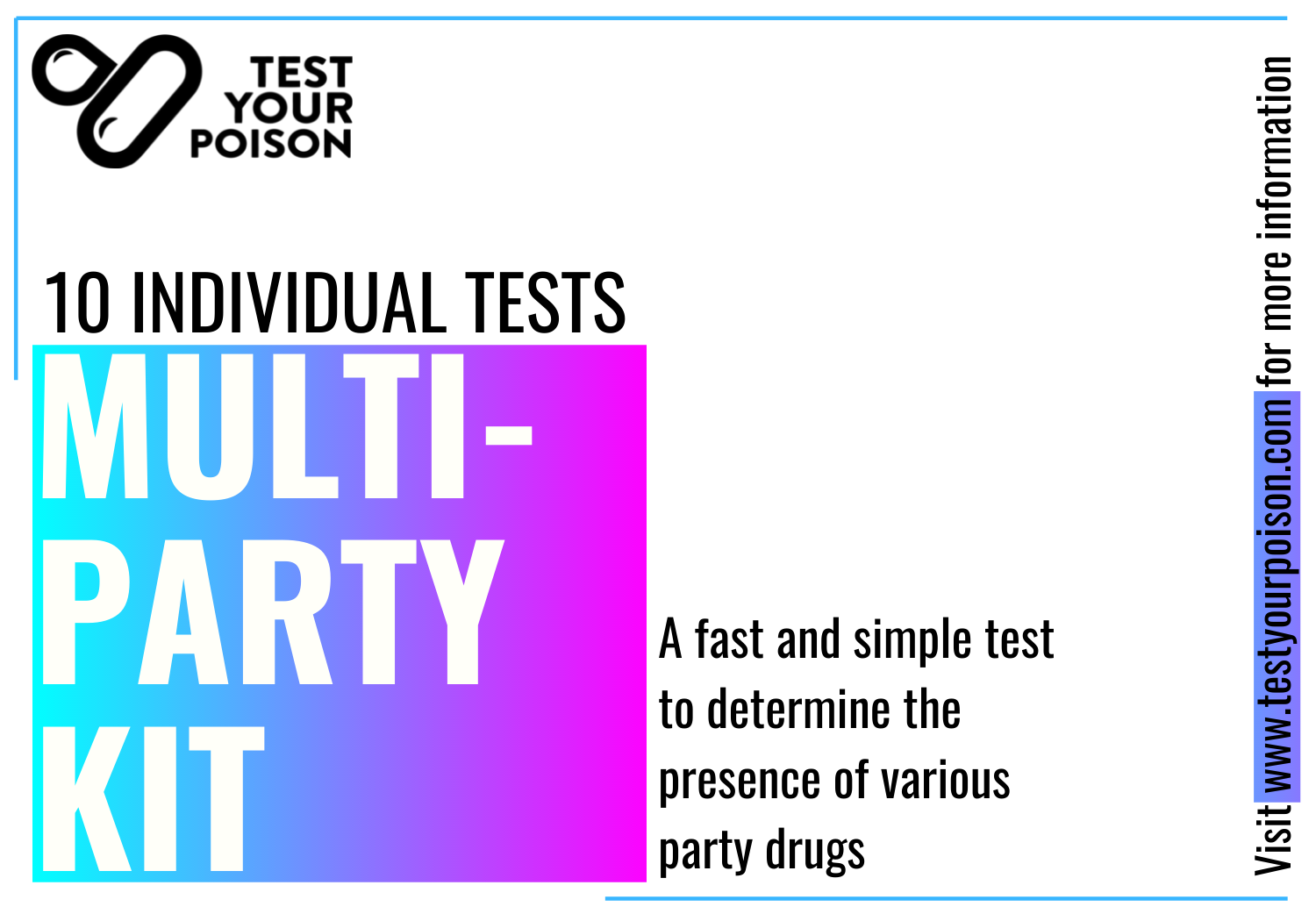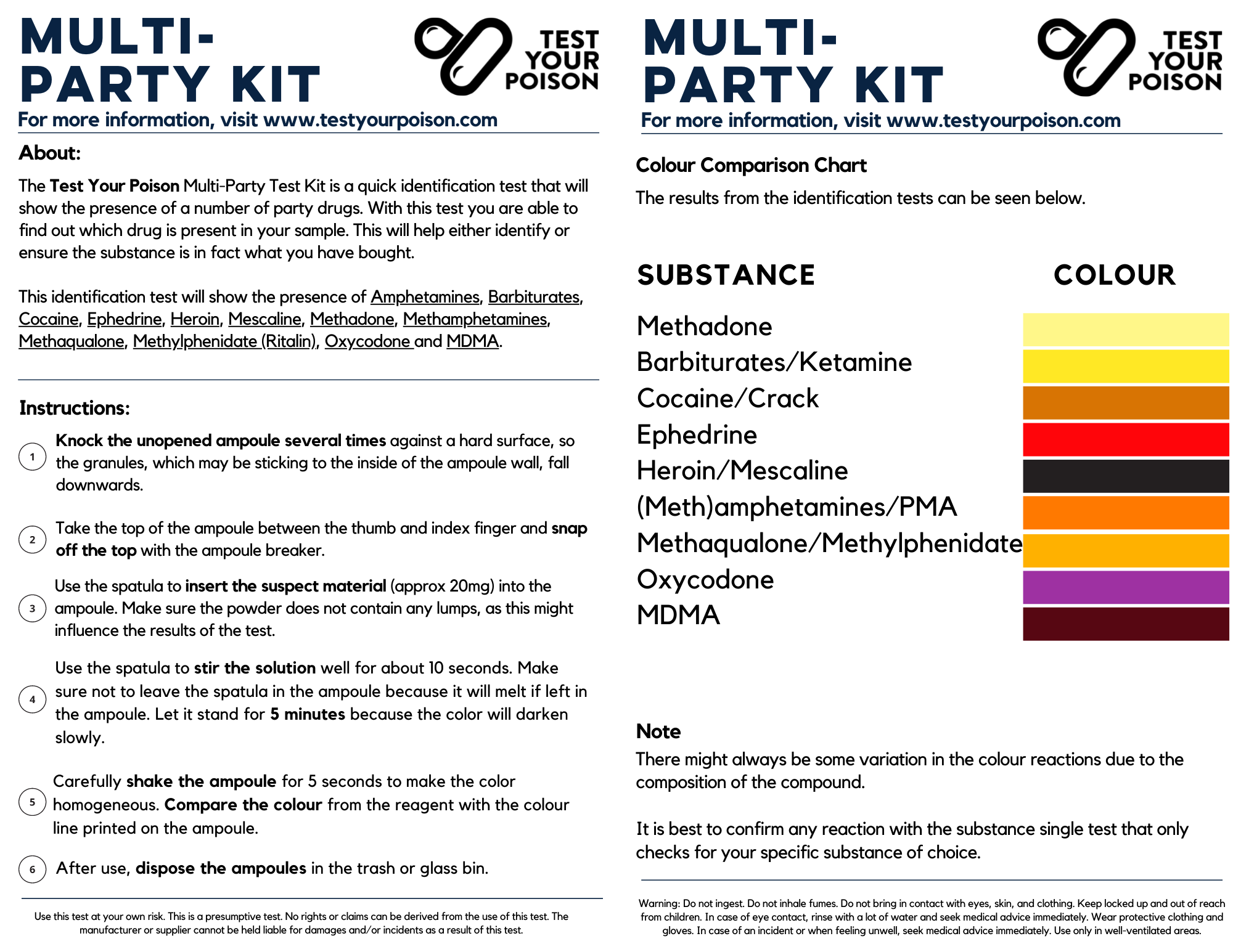 Guarantees
Easy to use

Just add sample to pre-filled vial of reagent

Fast

Get accurate results within seconds

Colour matching

Clearly interpret results with colour matching directly on the vial/instruction sheet

Simple disposal

Toss vial in garbage, no need for neutralizers

Great for sharing

Kits can come with 10 tests, perfect for sharing with friends

Worldwide shipping

Ships all over the world with fast shipping in North America

Discreet shipping

No logos or company names. It'll be our little secret

For use on the go

No need for additional equipment. It comes with everything you need
FAQs
How do I use the kit?

Instructions on performing the test are included with your test kit. We've also included them on the product pages. You can also click here to find out more.
How much of the sample should I use?

A very small sample is sufficient. In general, your sample should be about 20mg or 1-2 drops.
My vial looks empty, can I still use it?

Some of our test kits require very minimal reagent to be effective, while other kits require more. Depending on the kit you buy, there might seem like very little reagent (few drops). Do not worry, as this is intentional. Some kits are designed to have that amount of reagent, and you can still use it.
How reliable are the tests?

While reagent testing is the best method for on-the-spot testing, it is never 100% conclusive. There are many variables that can impact what the reaction looks like. Lighting, impurities, and unwanted substances in your sample may all play a role.
Great, but wish it told more
This is a great all-in-one test kit to make sure what your bought is in fact what you want. I wish it told you more about the purity of some of the drugs but I guess there are other test kits for that
Easy to interpret
Came quick in the mail and super easy to use. I love the colour printed directly on the vial for easy comparison
You never know
Got this as a sample and keep it on me at all times :) just in case because you never know lol